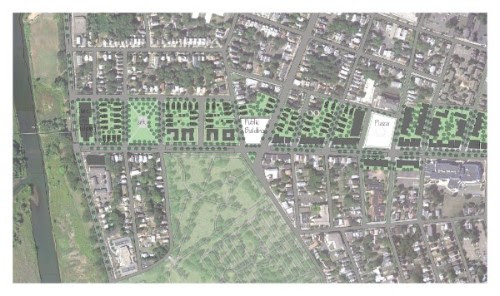 Community Master Plan for the Route 34 Corridor, 2010 – 2011
The League organized a charrette process with residents and organizations in of the Hill, West River and Dwight neighborhoods; the City of New Haven, and the Yale Urban Design Workshop to develop plans to rebuild the zone destroyed for a State highway project which was never built.
The community plan removed the paired highways and reestablished Legion Avenue as an urban boulevard. This allowed typical streets and blocks to be designed, which made complete use of all the various large and small parcels of land, and which supported mixed uses, a variety of housing types, usable public parks, and safety and convenience for all ways of moving around the city: walking, biking, taking the bus or driving.
This plan was undermined by short-term projects and political interests. With your support, we can continue to advocate for sound planning in this important area and throughout the city.
Some key documents:
League Report Summarizing Concerns About New Haven Downtown Crossing
League Report on Flawed Downtown Crossing Cost-Benefit Analysis
Garrick et al. Study on Highway Removal
Robert Orr Powerpoint Presentation on Downtown Crossing Workshop
Media coverage:
"'Silent Resignation' Challenged"
New Haven Independent June 14, 2012
Mayor Enters New Urbanist Lion's Den
May 14, 2012
Article on Urban Design League NHDC Report
March 2012
A Genuine Real Live Neighbor Shows Up
New Haven Independent March 8, 2012
New Haven Road plan tarnishes the TIGER program
Blog post by Philip Langdon on 22 Dec 2011
New Haven Independent, October 10, 2011
Downtown Crossing Critics: City Meant Well, Did Badly
New Haven Independent, August 1, 2011
How About A Roundabout? Or More Trees?
New Haven Independent, June 10, 2011
Bravo! Bike Lane Enters Stage Right
Official Downtown Crossing website, with information about public hearings.